Episode 208
Should You Come to Women in Language 2021?
March 1st, 2021
24 mins 41 secs
Tags
Are you considering joining Women in Language 2021 but aren't sure whether it's right for you?
In today's episode, I'm going to be answering all of your burning questions about the event so that you can have the full information for the event that runs 4-7 March 2021. Tune in and hear me discuss:
What happens during the conference days?
We start on Thursday 4 March with our opening ceremony, welcoming all attendeesy and getting everyone in the mood for our 4 days of fun. Then we start with the first presentation.
You will watch this presentation by logging into a special attendee's area on our website.
There will be a fun and lively chatroom where you can meet other participants.
This year we have
23 presentations from expert speaker, covering topics from having a bilingual family to revitalising an endangered language
3 powerful panels about languages in the world of social media, in technology, and in Australia with our Australian speakers Michele, Bec & Karla
2 Speak Easy sessions where all participants can join to practice languages
What's on?
Here's the schedule!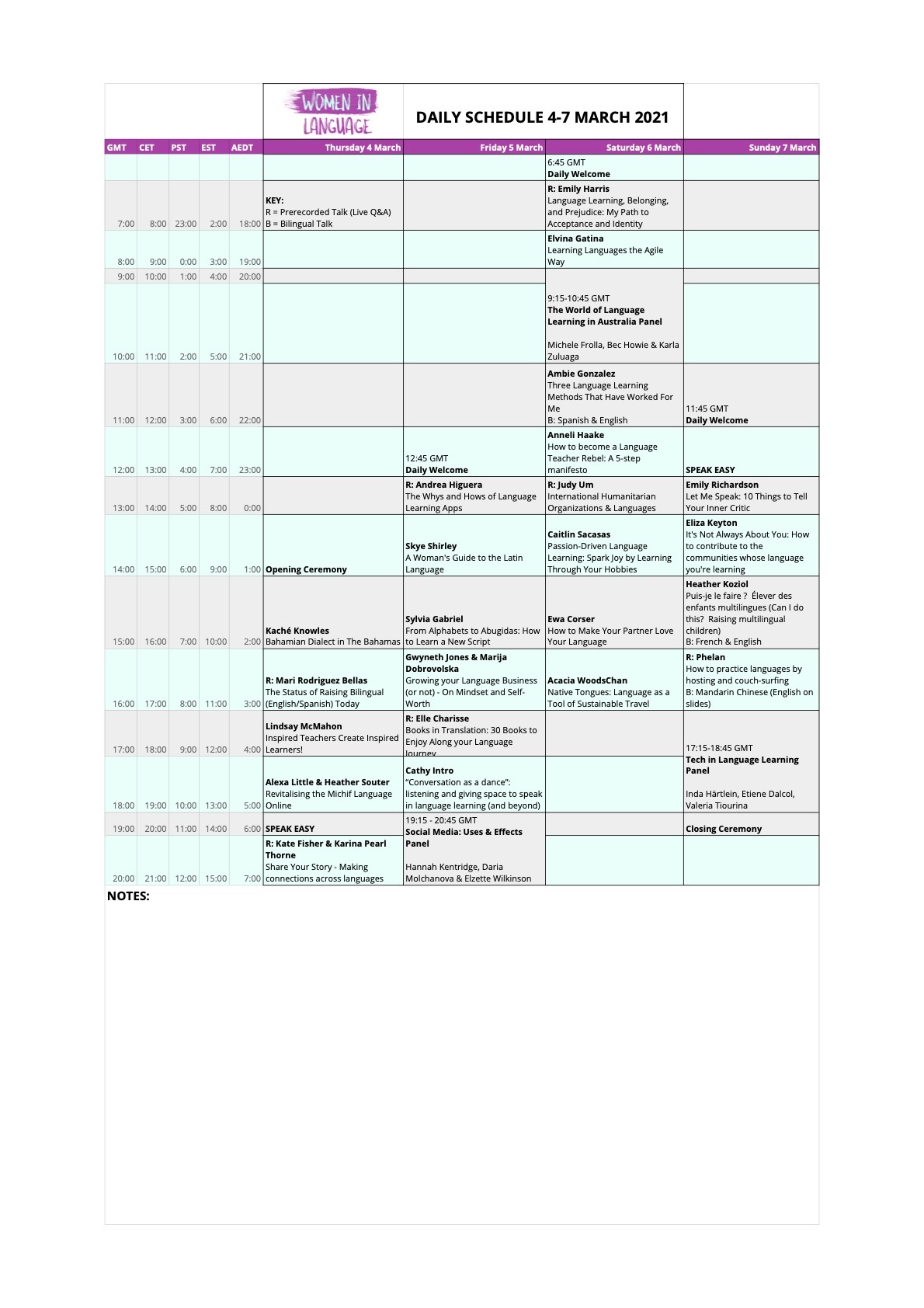 How does it all work technologically?
When you get your ticket, you're automatically a member of our teachable online school, which is the Women in Language members area. For the chatroom, we use Youtube Live. You'll need a Youtube account in order to chat, but you don't need to download anything in order to watch.
For the Speak Easy portion, we use Zoom. You need to download the free Zoom app if you want to join.
For follow-up and connecting outside of the presentations, we have an exclusive Facebook group.
Who is Women in Language 2021 for?
People who are learning languages, no matter if it's their first language or their 10th
Women, men, trans, non-binary, queer people, people of color, white people, monolingual people, multilingual people - our community welcomes you
People who are passionate about culture, society, equality, and self-improvement
People who want to connect with a strong and lively community of like-minded language learners
People who enjoy this podcast! If you like the Fluent Show, honestly, I think you'd love Women in Language
Can men join Women in Language 2021?
Sometimes, men ask us if they can come too. The answer is YES - come along and enjoy learning from these smart, funny, and dedicated language loving women. In this episode you'll hear from 🤴🏼Jonathan, Léo, Richard and Shane who want to encourage you to join us!
Is Women in Language just for people who speak multiple languages?
Nope!
We are not a space where you have to prove yourself. We're not going to ask you or test you, and we will speak out against any implication that knowing more languages makes anyone a better learner or a better person.
If you're interested in the topics we bring you, then sign up and you'll be welcome.
How much does it cost to join Women in Language 2021?
$29
all in, including our presentations, opening party, closing party, live language exchange, Facebook group, raffle ticket and replays for anything you miss first time round.
How do I sign up?
www.womeninlanguage.com and tickets are open until 7 March but we start 4 March!
See you there? See you there!!
Thank you to Bonnie for this episode introduction and to Léo, Jonathan, Shane, and Richard for their participation.
Thank you for listening to the Fluent Show! If you enjoyed this episode, please consider supporting the show by leaving a review in your podcast app or becoming a member of our Patreon community