Episode 150
Did You Miss the Outstanding Langfest 2019? Catch Up Here!
September 2nd, 2019
59 mins 42 secs
Tags
Hooray, it's conference time! In today's episode I'll bring you a mix of language learning goodies straight from Montréal, Canada. You'll hear
What a language conference is all about
Poetry, written on the spot by language learners
A drinking song in a minority language you may have never heard of

Language learning tips from an 8-year old who speaks four languages
And how you can make the most out of attending these language events!
As a podcaster bonus, I've also added reflections on Podcast Movement 2019 in Orlando, Florida.
Which Language Events are Coming Up?
Here's a list of the next language learning events for your diary:
Polyglot Conference in Fukuoka, Japan, in October 2019
Women in Language in March 2020
Polyglot Cruise sailing from Barcelona, Spain, that's in April 2020
Polyglot Gathering in Terezin, Poland, that's in May 2020
All links below!
And Here Are a Few of Your Poems!
Paglalakad sa Montreal
This poem was written by Lance Gough during our workshop Creative Writing, Public Speaking, and Performance
Naglalakad ako sa mga kalye ng lungsod
Hindi ako tumitingin sa iba pang tao
Mag-áakalá yata ang mga babae na nanonood ako sa kanila
Mag-áakalá yata ang mga lalaki na gusto kong makipag-away sa kanila
Sa wakas, tumítíngalá ako, sa mga tao
Ayos! Walang sinuman ay tumitingin naman sa akin
Nagsasalita sila sa mga smart phone nila
Tumitingin din sila sa mga relo nila
Nanonood din sila sa bangketa sa ilalim ng paa.
Pero, walang sinuman ay tumitingin sa iba pang tao.
Iniisip lang silang lahat sa sariling buhay nila.
Translation Walking in Montréal
I'm walking on the city streets
Not looking at anyone else.
Women might think I'm looking at them!
Men might think I want to fight!
But finally, I look up at the people
Wow! No one is looking back at me.
They're talking on their smart phones,
They're also looking at their watches,
They're also watching the sidewalk under foot.
But, nobody is looking at anyone else.
They're all only thinking of their own lives.
Carol's Poem in French
Les gens heureux rirent
Ils partagents les histoires bilingues
Je' peux pas parler
Jonathan's Visual Poem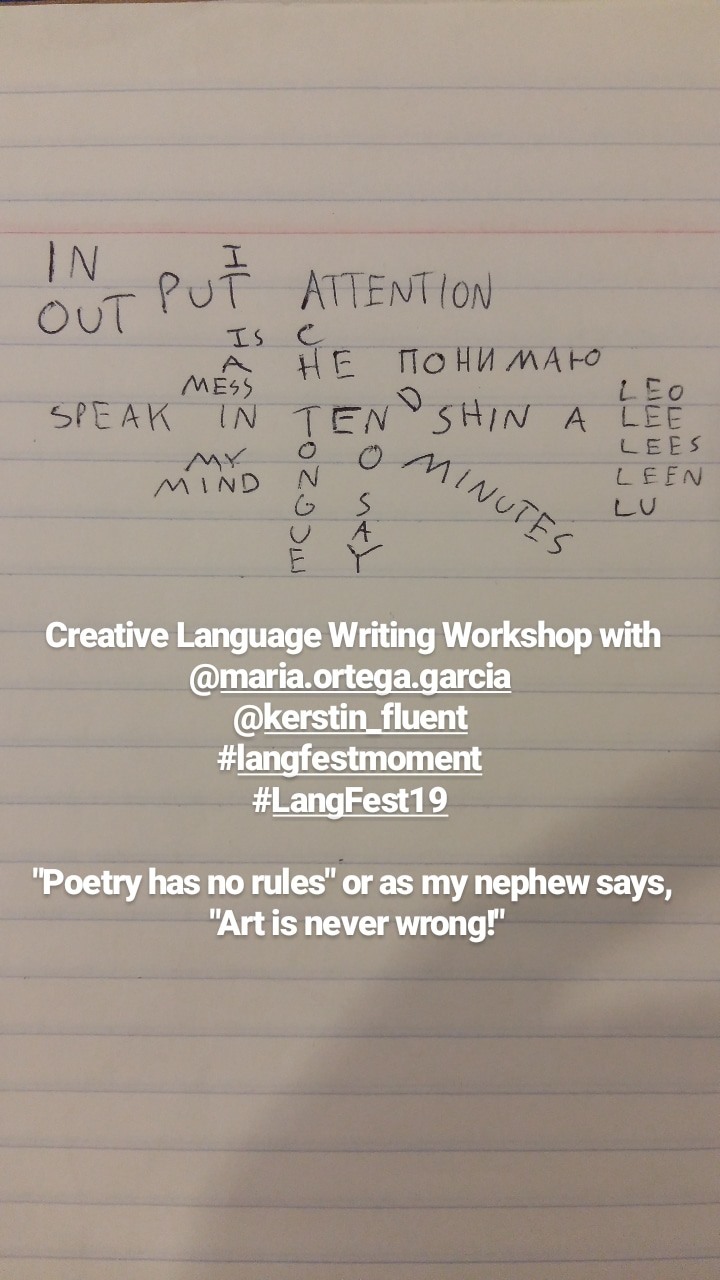 Support This Podcast
Like all podcasts, the Fluent Show is supported by your online reviews and word of mouth.
If you liked this episode, please tell someone about it. Click here to tweet about the show, go to your Podcasts app and leave us a review, or simply text a friend about the Fluent Show. Thank you!
Thank you to Scottie for this episode introduction.
Support The Fluent Show